The lucky folks of BGR have managed to score an early review unit of the Motorola Droid handset, previously known as Verizon Droid or Tao/Sholes. This info comes as a pretty predictable piece of news, specially since the specs and details of the handset have recently been leaked by Moto, who accidentally launched its official phone site a weak earlier than scheduled.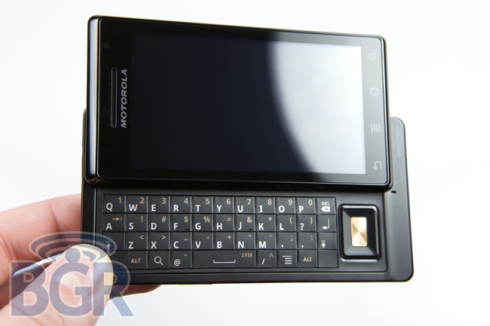 Moving on to the review per se, BGR mentions that this is an Android 2.0 device, sporting a 550 MHz Texas Instruments OMAP3430 processor, a 5 megapixel autofocus camera with dual LED flash, a digital magnetometer, proximity sensors and 256MB of RAM. The build quality of Moto Droid is simply great, thanks to the many metallic pieces, that make the device is a solid and pretty heavy piece of machinery.
The screen is very, very hot, with its 3.7 inch diagonal, 854 x 480 resolution and you have to know that this capacitive display is able to display crisp, vibrant and bright images with ease. On to the flaws side, the sliding QWERTY keyboard is not exactly what we needed on Moto Droid, specially since we would have done just as well with the virtual one, on the huge screen.
This test unit comes with two blank keys that do nothing and all in all the keyboard is not that responsive, providing too little feedback to the user, at least for the expectations of the reviewers. The directional pad also takes a while to get used to, mostly because it's placed on the right side, next to the keys.
Calls made with Droid are crystal clear, speedy and work perfectly, even on Google Voice. We must also mention the battery life, a feat that greatly impressed BGR, because the device lasted for one whole day of usage, with push Exchange configured, Facebook, Gmail, contacts and a linked push account. No WiFi or Bluetooth were available, since they were disabled, but still the battery performed pretty well.
In case you want more details about this and other feats of the new Moto Droid, there's always the full review to check out.
[via BGR]