I have tested quite a few Motorola phones over the past year or so, so why not another one? This time we are treated to the Moto G5, the follow-up to the Moto G4, that enchanted us last summer. It debuted in March and brings a change of materials, plus makes some compromises and changes the size. Motorola is playing it safe and tries to integrate this device in a portofolio that's now much richer in the entry level and midrange area, with the Moto C and Moto E models. Anyway, the Moto G5 is priced at $200 and we reviewed it after the break.
Available in Lunar Grey and Fire Gold, the machine is a lower midrange model. We tested it in the 2 GB RAM, 16 GB storage version and this handset comes with a water repellant case, smaller than the Moto G4's. It goes from a 5.5 incher to a 5 incher. The back side is removable, even though it's made of metal, something you don't see every day.
There's also a removable battery here, two SIM slots to access there and the build was quite OK. We've got comfy buttons and this is a wide phone, but it's OK for one hand usage. It feels a bit better built than the Moto G4 and more solid. Moto G5 measures a hefty 9.5 mm in thickness and weighs 145 grams, which is 10 grams less than the G4 and also 0.3 mm slimmer.
There's a fingerprint scanner that looks better than the one seen on the Moto G4 Plus and Moto Z, that's for sure. The format is generic, but the build is good. Moving on to the display, we get a 5 inch Full HD IPS LCD panel, which we immediately compared to the Full HD IPS LCD 5.5 incher from the Moto G4. We used Google Photos as the video player and experience a bright image, temperate colors and wide view angles. Contrast was modest and pixels had an RGB Stripes arrangement.
The luxmeter showed us a value of 388 LUX, which is OK for a $200 phone. It's clearly below the 491 LUX of the Moto G4 and Huawei P9 Lite, but superior to the Huawei G8 and LG G5. Settings have to do with brightness, adaptive brightness, plus there's a Color Mode, that lets you pick between Standard or Vibrant. Then there's font size and Display Size. I'd say all of these are OK for the price we paid.
Moving on to other hardware, there's an octa core Qualcomm Snapdragon 430 processor here, clocked up to 1.4 GHz and sporting an Adreno 505 GPU. Moto G4 actually had a Snapdragon 617, which was more powerful, so this feels like a downgrade. The RAM quantity is 2 or 3 GB here and we have the 2 GB version. Storage is 16 GB plus microSD, of which 9.6 GB are free. There's also a 32 GB version, of course.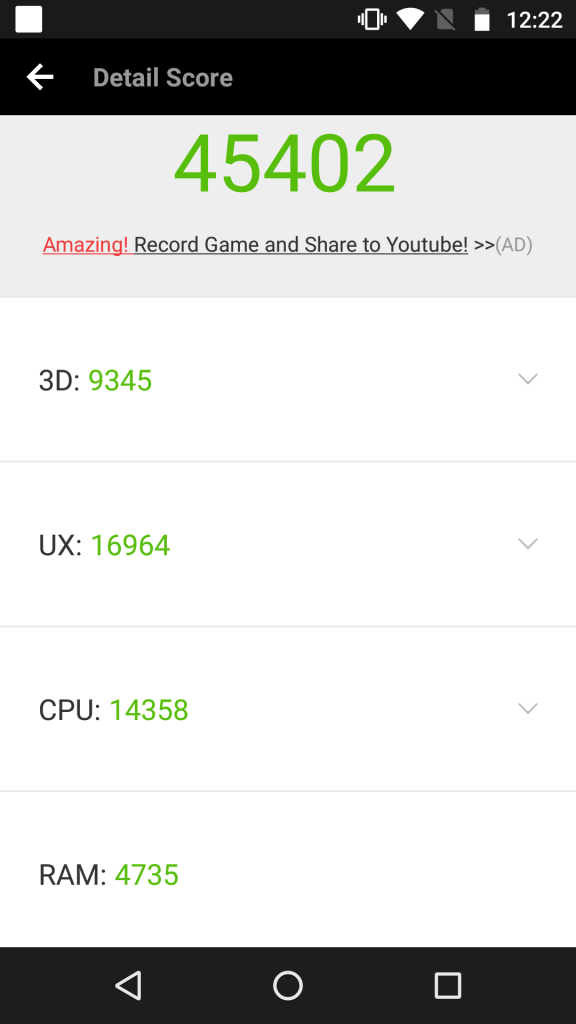 Moto G5 doesn't suffer from lag, has zero delays and handles gaming fine. In benchmarks we scored below the Moto G4 in Quadrant and above the ASUS ZenFone 3 Max. In AnTuTu 6 we were on par with the Moto G4 and surpassed the Galaxy A5 (2016). The Xperia XA was though superior, plus the Nubia N1. In 3DMark Ice Storm Unlimited the score was below 10k, which instantly makest this handset less than ideal for gaming.
No big upgrade overall. Temperature was OK, with 31.5 degrees Celsius after running GFXBench and 34.2 degrees when running Riptide GP Renegade, so there's no overheating. Moving on to the battery, Moto G5 uses a 2800 mAh unit, down from the Moto G4's 3000 mAh. It comes with 10W fast charge support and on paper promises one full day of use.
The video playback time we achieved was 9 hours and 59 minutes, which is solid and beats the Moto G4 and its 9 hours and 31 minutes. It also defeats the Huawei Mate 8 for example. It scoes below the Huawei Nova and Nubia N1. In PCMark we got to 7 hours and 34 minutes, which is OK and surpasses the Huawei P10 and Moto Z, but scores below the Galaxy J5 (2016).
Not a bad battery for sure. Charging is done 2 hours and 7 minutes, better than the iPhone 6 and 30 minutes of juicing up equals 33%, while one hour brings you to 73%. It's also a lot better than the Moto G4, which was probably broken when we tested it, charging in 5 hours. The settings of the battery include Battery Saver and Battery Optimization.
On the acoustics front, we've got an earpiece serving as the main speaker for music, like on the Moto G4. Google Play Music is the music player of choice, with a stock EQ, extra bass and treble options, as well as 5 custom channels. Moto didn't bundle any headphones here, by the way. The listening experience brought us a loud and clear sound, no vibration or distortion, plus a not so bad bass.
The decibelmeter showed a value of 84 dBA at the top and front, while at the front and bottom it was 79.4 dBA. At the back it's 76.1 dBA, so overall not impressive. In Riptide GP Renegade we got to 90.7 dBA, which sounds better, even for a midrange device. Since the Moto G4 barely got to 80 dBA, I'd say that the first batch of results is better. In the end yes, we could do better but for this price we take what we get.
On the camera front, there's a 13 megapixel back shooter, with PDAF and F/2.0 aperture, as well as LED flash and 8X digital zoom. Upfrot there's a 5 MP camera, with wide angle lens and F/2.2 aperture. By the way, the Moto G4 also had a 13 MP and 5 MP setup. The camera app starts up fast, provides fast focus and a medium picture taking speed. The UI is stock for the cam and we've got stuff like timer, HDR, slow mo, panorama and Full HD video. There's also a Manual mode, with white balance, ISO, exposure, shutter and focus tweaks.
We move on to the gallery, that was taken on a sunny day of May and included some burnt shots, but good clarity. Colors were close to my view of what sRGB standard is and there was no missed shot or blur. Selfies were actually quite good, superior to those done with the Huawei P10 Lite. Some oversharpening snuck in and we had great texture in the bike shots. HDR really made pictures shine and highlighted details, but once you zoom in, details go haywire.
It's also very hard to focus in closeups, but once you do, the resulting macros are nice. Panorama was modest, at 2480 x 688 pixels and zoom into that shot of a statue resulted in a pretty nice pic. Focus was solid all around and you should try to avoid the sun for better results. I'd put the G5 on par with the Moto G4 maybe, but with better colors and details, plus selfie.
As far as low light capture is concerned, we did experience some blur in our gallery of shots, but the flash was OK. There's a bit of yellow and blue hue to fight with, but the street light halos had a pretty decent size. I liked the focus and texture, but there was a bit of a problem with the violet hue, that we encountered every once in a while.
I'd say the Moto G5 scores below the Moto G4 when it comes to lighting and the whole blue hue thing, in low light picture capture. Time to talk about video capture! We shot Full HD clips, in MP4 format, at 30 FPS and 18 Mbps. Refocusing also happens here and frankly speaking it's been a while since I had to face this problem. The microphone captures an echoey atmosphere and the colors and clarity were spot on.
I liked the exposure change and the details weren't exactly bad. There was a bit of burn and oversaturation, but we've seen that on so many phones. My main problem remains the refocus, which happens way too often. Electronic image stabilization was good and I feel that the clarity is superior to the Moto G4, in spite of the critique above. The image is also less burnt.
Low light video capture can be described like this: it's Full HD, but looks 480p. The result is very dark and shaky, there's a large amount of detail loss and an annoying violet hue. Big street light halos are here and once again the microphone was underwhelming. The quantity of refocus remains a problem throughout filming, but if you can live with that, there are no other problems. One thing's for sure: this is no Galaxy A or Xperia…
The web browser of choice we used was Chrome and it loaded pages reasonably fast, while the keyboard was a stock one. Connectivity-wise, the Moto G5 works with a microUSB, plus Bluetooth 4.2, LTE Category 4 and WiFi a/b/g/n. It's got 2 microphones, nano SIM card slots, GPS, Glonass and NFC. The calls were loud and clear, which is to be expected from the company that invented the mobile phone.
The microphone was also quite solid. We also did a SpeedTest, achieving 114 Mbps in download and 25 Mbps in upload, while on 4G we achieved 53 Mbps in download and 23 Mbps in upload. All of these are OK results for a midrange machine. Moto G5 runs on Android Nougat 7.0, in a stock and clean version. Multitasking happens via carousel and if you keep the homescreen pressed, you get stock widgets.
The UI works fluidly and we've got a stock dropdown area, wide notifications and a Pixel-style app drawer. Settings are also stock, give or take a Moto Privacy or two, plus encryption and user stuff. Split screen is also an option here, while the fingerprint scanner involves a 12 step setup and provides mid level speed of authentication.
Time to talk apps. There are 24 of them here, so there's no bloatware, especially since they're all stock Android affair. Motorola also included an Always On Display feature called Glance, just so you know. And now it's time for the verdict!
Here are the Pros:
OK price
better build than Moto G4
OK screen
nice battery
good charging time
nice battery
solid pictures
clean and stock UI
not bad acoustics
good selfies
And the Cons:
generic format
mediocre performance
CPU downgrade from G4
video and microphone were underwhelming
unimpressive refocus.
With quite a few compromises Motorola Moto G5 sounds like the phone you'd buy just thanks to its brand. In some areas it's inferior to the Moto G4 even and only the promise of updates coming in time is appealing, plus stock Android. It's a very tough sell over the Huawei Honor 8 Lite at a similar price, since that one has the looks, battery and better camera going for it.
Is it worth to buy a Moto G5 instead of a G4 for a 10% bump? I'm not sure and with so many alternatives out there, this Moto may just get lost in the noise. It also competes with the Moto E and C units… You can get it here.