Over the past months we've had the chance to play with the whole Moto G6 triplet, that includes the Moto G6, Moto G6 Play and Moto G6 Plus. The most interesting of the bunch is certainly the Moto G6 Plus, which is the topic of this review. Launched at the end of May 20187, the device is a higher end Moto G6 basically, with a slightly upgraded camera and bigger screen. It can also be seen as a lighter Moto X4. It comes in a nice Dark Indigo hue and it's priced at around $300 right now.
Design
The design is pretty sharp looking, clearly inspired by the Moto X4. There's curved glass at the back, looking very much like the Galaxy S7 and S7 Edge to be honest and also glass at the front, with a metal frame between. There's a 5.9 inch screen in the mix and a main camera with a circular effect triggered by a series of notches within the edges. I love the way the back side reflects lights, going from black to blue in a jiffy.
There are no annoying light reflections here, like we had on the HTC U11 and U12+. The grip is good, in spite of having so much glass and the buttons are rather comfy and responsive. I feel that this phone is too wide to use with a single hand and this is one of the best looking Moto phones I've been used in a while. It measures 8 mm in thickness and weighs 167 grams.
By the way Moto X4 measures 8 mm in thickness and weighs 163 grams. It's very comfy in both landscape and portrait and I loved that it doesn't smudge easily.
Display
Motorola Moto G6 Plus packs a 5.9 inch IPS LCD display with an 18:9 aspect and a 2160 x 1080 pixel resolution. There's Gorilla Glass 3 protection here and the bezels are really not so narrow, compared to current standards. The viewing experience was a bit annoying on account of the black edges around the image. Still, the colors were vivid, brightness was solid and also the contrast was OK, even in sunlight.
View angles are wide and the pixels have an RGB Stripes arrangement, as shown by our microscope. We also did a test with a luxmeter, producing an excellent result of 573 LUX. There are some differences between the top and bottom parts of the screen, though. It beats the Samsung Galaxy S8 with the brightness above, plus the iPhone 8 even. It's still no match to the Xiaomi Mi 6 and Meizu Pro 6 Plus.
Settings for the screen are rather typical, including brightness, adaptive brightness and a useful Color Mode. That one lets you tweak things to Warm/Natural/Cool with a slider in the mix. We've got Standard/Vibrant modes and text size and display size. Excellent screen overall.
Hardware
This phone didn't go all the way to Snapdragon 660, but it does get the popular Snapdragon 630, which we also saw on the Moto X5 and ZenFone 5 Lite. Moto G6 Plus packs 4 or 6 GB of RAM and 64 or 128 GB of storage, as well as a microSD card slot. I didn't notice any lag, freezes or stutters and the functioning was rather fluid, also aided by the clean software.
Riptide GP Renegade runs OK and so do Asphalt 9 and PUBG Mobile. Also no overheating is found. We also did some benchmarks and found that AnTuTu 6 placed the Moto G6 Plus above the Xperia XA2 and Huawei P20 Lite, but scored below the Xiaomi Mi A1 and Nokia 6.1. In AnTuTu 7 we beat the Moto X4 and scored below the HTC U11 Life. In GeekBench 4 Multi Core we scored above the Moto X4 again, plus the HTC U11 Life and remained below the Xperia XA2 Ultra, as well as the Moto G5S Plus.
In Slingshot we measured the power of the GPU, achieving results higher than the Xperia XA2 and Nokia 6.1. Nokia 7 Plus remains better, as does the ZenFone 5, which was expected. It all feels somewhere between the Xperia XA2 and XA2 Ultra, plus even above the Moto X4 at times. Temperatures were tip top, with 31.6 degrees Celsius achieved in GFXBench and 33.9 degrees in Riptide GP Renegade, so no extra heat here.
Battery
On the battery front things could have been kept generic, at 3000 mAh, but Moto wanted something extra, so they offered a 3200 mAh unit. This battery lets us achieve 9 hours and 35 minutes of video playback, which is just OK, not the greatest in the world, just OK. It beats HTC 10 and Nokia 6.1, but scores below the Nokia 6 and Moto X4, as well as the LG Q6, which does not make the handset memorable.
In PCMark, the continuous usage test we achieved 9 hours and 54 minutes, which is great for a midrange phone. It beats the ASUS ZenFone 3, Samsung Galaxy A6 (2018) and Galaxy Note 8. We also scored below the Nokia 7 Plus and Xperia XA2. This basically means you can easily play 9 hours of PUBG Mobile, which is great. Charging is also rather good, with 1 hour and 41 minutes.
It's superior to the HTC U11 and Galaxy S9+. We also did a step by step charging and reached 7% in 5 minutes, 24% in 15 minutes and 52% in 30 minutes. After 1 hour we were at 87%, which is fantastic. The Battery Settings include optimization, Battery Saver, Adaptive Brightness and this one is a solid battery overall.
Multimedia
As usual Motorola opts for a singular speaker, just the earpiece at the top, which they've done a ton of times till now, so much so it became a trademark of theirs. We used Google Play Music here, with Dolby Audio in the mix and a quite nifty equalizer, with options like Movie, Music, Game and Voice. There's also a Custom option, with Surround, Virtualizer, Dialogue Enhance and more.
We've got an Intelligent Equalizer and a Graphic Equalizer, plus a volume leveler. Intelligent EQ lets you pick between Open, Rich and Focused. When we opened up the ears and listened to music, we found that the speaker was quite loud and offered an OK clarity, some distortion at top level and a pretty so-so bass. I found it handles movies and games better than music.
There's FM radio in the mix, but no bundled headphones. We also did a decibelmeter test and achieved 82.5 dBA at the top and a meager 76.3 dBA when the device is facing down. It beats the Huawei P10 Plus and Xperia XZ1, but scores below the Moto G5 and Samsung Galaxy A3 (2017). Riptide GP Renegade, our favourite benchmark game made us reach 93. dBA, which is not impressive when there are many phones reaching past 100 decibels.
We found it beats the Moto G5, Xperia XZ1 and Galaxy S9+ though. There are better models, like the Nokia 6 and LG Q6.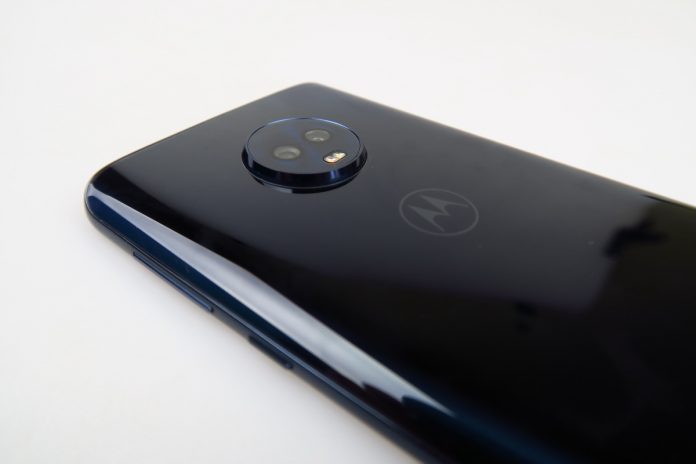 Camera
At the back there's a pretty solid camera, which sounds like it borrows a bit from the Moto Z2 Play and Galaxy S7. There's a combo of 12 MP + 5 MP, with F/1.7 aperture for the main camera and Dual Pixel tech, plus PDAF. There's also a dual LED dual tone flash here and the secondary 5 MP camera works as a depth sensor with F/2.2 aperture. Upfront there's an 8 MP camera with LED flash. I found the camera to focus fast, but also offer a so-so speed of picture taking. Could be faster.
Interestingly, while the whole software is stock Android, the camera UI is slightly tweaked. We've got the Manual mode with setups for white balance, ISO, exposure, shutter and focus. Other modes include Portrait, Cutout, Spot Color, Panorama and Text Scan. You can also stream straight to YouTube and do slow mo videos. The users can go up to 8x zoom tops.
Gallery-wise, we had a beautiful vacation in the Romanian town of Brasov, where we had a mixed weather of clouds and strong sun. I found the colors to be nicely calibrated and the closeups to be very detailed and clear. Bokeh/Portrait takes some time to pull off and also multiple attempts. The HDR whitens the pictures too much. I found the zoom to be surprisingly good and the selfies to be convincing.
The sky suffers from the "Samsung effect", meaning it's cyan and overexposed. Panorama is just modest, at 8624 x 960 pixels and the Spot Color feature remains a gimmick, but a rather poetic one, since it makes some hues pop out and leaves the rest in black and white. While the selfies were OK at times, their background was burnt quite a few times, which is underwhelming.
The face looks pretty quality to me and I'm talking about pores, skin texture, hair texture and the clothes. Especially if you have the ideal lighting. The colors were a bit muted in general, not very vivid somehow. Somehow just the sky overdit it with colors. Indoors closeups were rather modest and I'm getting serious Samsung Galaxy A5 (2017) vibes here, with a similar overexposure and reaction to light.
We did score some excellent food closeups, to be honest. I feel that the Moto G6 Plus is 10% below the Moto X4 and 10% above the Huawei P10 Lite let's say. It also beats the HTC U11 Life a bit. Basically nice zoom and clarity, poor sky, so-so colors and good selfies in ideal lighting. Bokeh took a bit to convince. Low light photo capture brought on fuzzy street light halos and a bit of blue at the top side of the pics.
There's also an annoying mauve fog spoiling the fun. That "fog" is an on and off affair and it comes and goes. I found the street light halos to be excellent after the first few frames. Brightness and colors are spot on, but there's too much blue in the mix, for some reason. It makes the capture mediocre sadly. I'm getting LG Q6 and Huawei Mate 10 Lite vibes, which is not a compliment for sure.
When it comes to video capture, there's an echoey mic, probably too easy to cover with the hand. The sky is overexposed, but the colors are OK and so is the clarity. The 4K video was oddly shaky, but produced a nice zoom. I liked the stabilization of the vids when walking around. There's no flicker, refocus or annoying artefacts. The 60 FPS video remains bad, just like I've seen on many phones, severely overexposing the shots.
Selfie videos had an OK clarity, even though we tormented the camera a lot with direct sun exposure. The background was amazing for the selfie video though, top 5 material by the way. I'd put on par with the Xperia XA2 or even above. In the darker and shadier areas things get a bit murky and foggy, I found, so get plenty of light. Not bad overall, minus the sky yet again, plus the echoey microphone. I'd even say the Moto G6 Plus can film just as good as the Nokia 7 Plus.
Now let's talk about low light video capture. Things aren't quite looking up here, since the capture is very poor, foggy and blurry. If you move a bit too much, you're set up to fail. The street light halos are big and the zoom is rather poor, since a lot of grain appears. There's also a flickering of the image and artefacts, too. This is clearly below average and it fits in the reign of the Nokia 5 or lower.
Connectivity
On the connectivity front, we have to do with 3 microphones and there's also 4G LTE support. We've got WiFi a/b/g/n, GPS, AGPS, Beidou, Glonass, Bluetooth 4.2 and NFC. There's Google Cast support, an USB Type-C port and dual nano SIM card slots. The calls were loud and clear, the clarity was excellent and the speaker was quite loud. We also did a SpeedTest and achieved 56.5 Mbps in 4G download and 57.9 Mbps in upload.
On WiFi we got as high as 294 Mbps in download and 25.4 Mbps in upload, which is excellent. Expected a bit more from 4G though…
OS, UI, Applications
Motorola Moto G6 Plus runs Android Oreo 8.0.0, just like the other Moto G6 series phones, including the G6 and G6 Play. It's all stock and clean, ready for the jump to Android Pie. Multitasking happens via carousel and split screen, as usual and the leftmost homescreen is reserved to the Google Feed. Keep the homescreen pressed and you run into the wallpaper, widgets and settings.
Widgets are all stock and vanilla and the apps have notification dots on top of them. The homescreen can rotate and the layout of apps can be set to 5×5 or 4×5. The dropdown section includes notifications and Quick Settings and the Settings themselves are all stock and standard. There's the fingerprint scanner with a 15 step setup and it feels too small on the "lip" of the phone and also a bit slow.
We also played around a bit with the Moto Voice Beta, which wants to be a real voice assistant so bad, but it's more of a solution to use when driving. The preinstalled apps list is rather typical, with 26 apps, but all of them are standard, like Files, Drive, Duo and so forth, including Moto with Night Display, Moto Key, Moto Actions and Moto Display. Moto Voice has a nice UI, I think, but it could be better.
Conclusion
Pros:
pretty design
very bright screen
OK performance
good battery
not bad selfies and Bokeh
good zoom
solid selfie video capture
stock Android Oreo
fast charge
nice UI for Moto Voice
Cons:
not uniform screen brightness
wide case
video playback could be longer (battery)
not very impressed by audio
oversaturated pics every once in a while
Bokeh takes a few tries to get right
poor low light capture
echoey microphone
no notification LED
Moto G6 Plus feels like a Moto X4 Lite, like an encore of sorts, but with a lesser camera. It fights the Nokia 6.1 and Xperia XA2 in their own domain, but can't go to the level of the Xperia XA2 Ultra or Galaxy A8 (2018). It's great for selfies, gaming and fast charging, so basically for the travelling gamer. We could have used a better battery and audio, but we can live without them, thanks to some camera attributes, especially front camera ones.
The stock software with fast updates also helps and the design is mesmerizing. You can get the Motorola Moto G6 Plus here.