Last summer brought us the unveiling of the Motorola Moto Z, a modular phone done right, after the underwhelming modularity served by the LG G5. The handset arrived on our testing table in December and we gave it a thorough review, which we'll detail below. This is the thinnest phone we've tested, at 5.2 mm in waistline and it's priced at around $500 or $600, depending on the Amazon offers you run into.
On big US carriers it's somehow still sold for around $700, off contract. Anyway, this smartphone comes in combos of black and gray, combos of black and rose gold, or a combo of black and gold. There's also a white version, pretty hard to find. Since it's a modular device, it can have a variety of modules attached, from the Hasselbland optical zoom unit, to the JBL Speaker unit, Incipio Power Pack, a projector or various style shells.
The design involves an ultra skinny body, measuring 5.2 mm in thickness and weighing 136 grams. One of the slimmest phones we've previously tested was the Gionee Elife S5.5, but even that was thicker, at 5.5 mm. The weight is also incredible here for a 5.5 incher, a mere 136 grams. You must wonder how Motorola put this together without making the device too fragile.
It's an incredibly well built device and the camera's big protrusion is easy to solve, by applying a back shell. It not only hides the protrusion, but also adds more grip to the slippery surface. The back side is prone to smudges and fingerprints, plus it has two glass windows at the top and bottom. There are also pins at the back used to attach modules.
The only ugly thing about this design is the front fingerprint scanner, that's simply not good looking. The Moto Z is a long and wide phone, which makes one hand usage rather impossible. It's got comfy buttons, but they're very easy to get mixed, because they've very close and too much alike.
In the end this machine proposes an aluminum unibody and stainless steel combination that works perfectly, with a 2.5D glass panel upfront. I should also mention we got a bundled frame protection. Great looking design and also solid. The display is a 5.5 incher with a Quad HD resolution and an AMOLED panel with narrow bezels. It's got Gorilla Glass protection and in order to test it, we resorted to Google Photos as the video player.
The experience brought on beautiful colors, a bright and crisp image, as well as solid contrast and wide view angles. The blacks were deep and pixels have a Pentile Matrix setup. We proceeded to do a brightness test, achieving 491 LUX units, which is good, but not uniform. At least you can't tell the difference between the darker and brighter areas.
The brightness achieved here is superior to the one of the Galaxy S7 and Lumia 950 XL, not bad at all, but also below the iPhone 7 and Huawei P9 Plus. Settings include Adaptive Brightness, brightness, Color Mode (Standard/ Vibrant), font size, display size (a slider for increasing or shrinking items on the screen) an da Low Motion Blur function is also available.
Overall, a very solid panel this one and now let's see if the rest of the hardware lines up. On the CPU front there's the classic flagship material of 2016, Qualcomm Snapdragon 820, a quad core 1.8 GHz unit, with an Adreno 530 GPU and 4 GB of LPPDR4 in the mix. There's 64 GB of storage here, a microSD card slot with support for up to 2 TB and of course, there was no lag.
No matter how many apps we started, we didn't experience any sort of hiccup. Games like Riptide GP Renegade and the latest Five Nights at Freddy's ran like a charm. Benchmarks were top 10 material I'd say. In Quadrant we were above Snapdragon 810 models, like the HTC One M9 and OnePlus 2, but also below the Pixel XL. In AnTuTu 6 we placed on the 9th spot, above the Xperia XZ, but below the OnePlus 3.
In 3DMark Ice Storm Unlimited, the score was above the Galaxy Note 5, but also below the iPhone 6s, so in the graphical area there are at least 20 phones better than this, this is my guess. Performance remains solid, no worries here and the temperature is also fine. We reached 35.1 degrees Celsius after running GFXBenhc and 35.8 degrees after running Riptide GP Renegade, so no problem with the heat.
On the battery front, we are being treated to a 2600 mAh unit, that on paper offers up to 30 hours of functioning and comes with a Turbo Charger, that gives 8 hours of usage after 15 minutes of charging. Video playback time is 10 hours and 37 minutes, which is excellent for a 5.2 mm thick handset. It beats the times scored by the LG G5 and Huawei P9 Plus, but scored below the Lenovo Vibe X3 and iPhone 6.
In PCMark, the continuous usage test, we reached 7 hours and 11 minutes, which is rather good for this waistline. It also beats the achievements of the Huawei Honor 8 and HTC 10, but scored below the Xiaomi Mi 5 and Huawei Nova Plus. Charging is done in one hour and 15 minutes, which is excellent and places the phone in the fifth spot all time only 10 minutes shy of the record held by the Galaxy S6 Edge Plus.
Battery Settings include Battery Saver and Doze, so they're pretty much stock material. In the end we're happy with the battery and in case you're not, you can buy the Incipio Power Pack, that offers a 2220 mAh capacity. It's supposed to offer up to 22 hours of usage. Now, on the acoustics front, we've got a single speaker, which is actually the earpiece at the top of the facade.
If you want an extra, you can buy the JBL SoundBoost accessory, that attaches to the back of the phone via magnets and pins and provides 2 speakers with 3W capacity and an extra 1000 mAh battery. We used Google Play Music as the player of choice here, with a stock EQ and functions like Bass Punch, Balanced or Vocalizer. The typical 5 custom channels are here, plus Wired Stereo options like Surround and 3D Stereo.
The listening experience involved a loud and clear sound, very good rendering of all notes. The bass was good and the voices were crystal clear. It's flagship level acoustics for sure, even though the sound is still coming from an earpiece. There were no bundled headphones with the unit we tested, in case you're wondering.
We proceed to the decibelmeter test, where we achieved 86 dBA at the top and front and 76.2 dBA at the back, quite the discrepancy when the device is bottoms up, so muffling is a thing here. The biggest value was achieved with our acoustic sample, while gaming revealed 83.9 dBA, in Riptide GP Renegade. All of them are pretty good results and had us surpassing the Galaxy S7 Edge, but also below the iPhone 7.
Everything was great, minus the muffling. Time to talk about the camera now!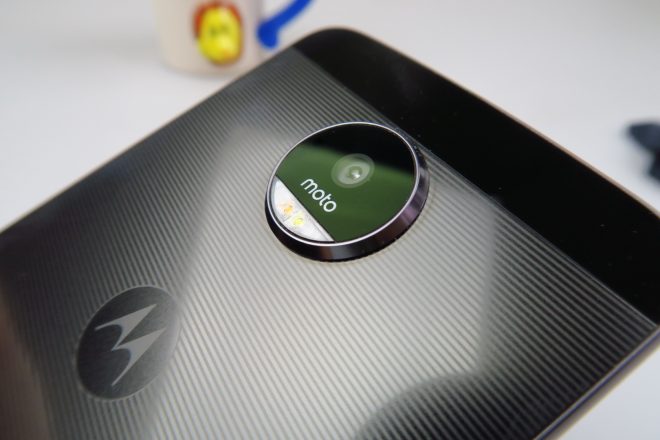 There's a 13 megapixel back shooter here, with F/1.8 aperture, optical image stabilization and laser focus. We also get zero shutter lag, a dual LED flash and 4K video capture, plus 1.12 micron pixels. For selfies we have a 5 MP front camera, with F/2.2 aperture, its own flash and 1.4 micron pixels. The camera app starts up fast, has a pretty fast picture taking, but also rather slow zoom at up to 8X.
The focus speed was quite good and the UI was very minimal, typical for a Moto product. There's a Timer, flash options, HDR (on, off, auto) and video capture options. Of course we also have Panorama and a Pro mode with focus, white balance, shutter, ISO and exposure options. You will also be using an exposure slider, in circular style on the screen and the front camera supplies a Beauty Mode.
The gallery of shots we've taken during the day come from the end of December, close to sunset with a weather of mixed clouds and sun. We experienced a solid zoom in, I mean details-wise, very crisp and clean shots, typical for a good flagship after all. The ice had a nice texture and we took excellent landscape shots, quite detailed for a 13 MP camera.
The selfies were just OK, clear and well lit, but I feel that they could've been a bit better. At least the skin texture was nice caught on cam. Closeups were also perfect and we also took a great HDR of that playground, with very nice colors included. The Moto Z catches some of the best object textures I've seen lately. It has nice dynamic range and exposure and we played with the focus at will, without straining to alternate on the foreground and background.
There was no blur, no problem when facing the sun or capturing glossy toys in the park. The sensor lets very much light in, so taking shots in the shade posed no problem during the sunset. I'd put the Moto Z on par with the Galaxy S7, LG G5 and HTC 10, but it certainly catches less details than the 23 MP shooters of the Sony Xperia units, that's for sure. Also the selfies couldn't been better.
Low light capture was very bright, the flash was also very powerful, but without washing out the shots as some flashes do. Street light halos were big and we had good colors, plus a clear and crisp image. There was no violet or blue hue, as even some great phones out there experienced in our tests, for some reason. The clarity was great and everything was pitch perfect, but not quite to the level of excellency achieved by the HTC 10 and Google Pixel XL.
Those two are simply too good during the night to allow any competition. Keep in mind that the Moto Z's performance was achieved on a very low temperature, of around minus 15 degrees at night or even less, so it's all the more of an achievement. It can still take on a Galaxy S7 and iPhone 7 Plus without problems. The video capture was done in MP4 format, in Full HD at 30 FPS and 17 Mbps, but 60 FPS Full HD and 4K were also available.
The microphone held its own, in spite of the powerful wind and we didn't lose much detail when zooming. Colors were pretty nicely calibrated, but somehow the overall level of detail let us a bit down. Focusing was nice, with absolutely no problem, even when moving around. We also did an optical image stabilization test, that resulted in very, very smooth footage and absolutely no focus loss.
This clearly places the Moto Z above the iPhone 7 Plus, in top 3 OIS of 2016, but still below the majestic Xperia XZ. 4K filming looked perfect and the slow mo was also nice. Basically almost everything was great here, except for the details and sometimes the colors of the areas that are too lit. One of the best filming of the past year, for sure.
Low light capture took things down a bit, to 25 FPS and 17 Mbps. We had big halos, some grain and lost some details again. The colors remained good and mic still rocked, though. Clarity and texture of buildings and the square were solid and with all that praise for the mic and clarity, I'd say the Moto Z is a fine phone for concert recording.
In some regards, it may be better than the Xperia XZ, because at least it doesn't have any problems with the colors, violet and blue hues and such. Now that the camera is done, time to proceed to other aspects. For example, the preinstalled browser here is Chrome, with an OK page loading speed, but not quite the fastest in history. Benchmarks are OK, but placed below Safari and Microsoft Edge.
The input is done via a stock keyboard with Swype included. As far as connectivity goes, there's USB Type C and since we got no audio jack, Moto bundled an USB Type C to 3.5 mm adapter. There are 4 microphones here, plus LTE Category 6 support, a nano SIM card slot, NFC, Bluetooth 4.1 LE and GPS. WiFi of the a/b/g/n/ac variety is present, plus MIMO support and then there's USB OTG as well.
Our model was actually a dual SIM unit, just so you know. Moto Z comes with WiFi Direct and its calls registered great clarity and quality, the sound was loud and the signal was excellent. Noise cancelling was perfect. We did a SpeedTest and achieved 78 Mbps in 4G download and 47 Mbps in upload. Then we got to 175 Mbps in download via WiFi and 25 Mbps in upload.
The WiFi speeds are good, but we wanted more from the 4G. Time to talk about the OS and UI. Moto Z runs on Android 6.0 Marshmallow, which was updated to Android 7.0 Nougat a few weeks ago. The multitasking is still done via a carousel and the whole UI is basically stock. Google Now gets its own leftmost homescreen, with reminders, weather, sports news and suggestions related to travelling and such.
The dropdown bit includes Nougat's clean notifications and Quick Settings areas and keeping the homescreen pressed reveals the wallpapers, widgets and Settings. Keep the Home button pressed and you'll trigger Google Now's smart feature, that reads the screen and displays contextual info. Going to the actual Settings, there's Suggestions here, at the top, side menus, multiple users and Moto Mods software functionality.
Motorola Privacy and Moto ID are here, plus encryption and Tap and Pay. The fingerprint scanner has a 12 step setup, it's fast and accurate and you can even keep it pressed to lock the device. Moto Z also offers special gestures, like a double tap to wake, or getting the hand close to the screen, that triggers a sort of Always on Feature, as well as flip to not disturb.
The preinstalled apps list includes 29 names, which is rather OK, so no bloatware here. They're all stock apps, plus a Moto app, the one that offers gestures, voice command and more. Otherwise, it's all Play suite, Translate, Drive, Docs, Sheets, Slides, Gmail and Maps. We also got the Moto Mods later on, but those will be reviewed separately.
And now let's see the verdict!
Here are the Pros:
modularity well done
slim and sexy
solid build
bright screen
good performance
good battery
fast charging
nice acoustics
great camera, excellent OIS and microphone
clean OS and UI, fast Nougat update
And the Cons:
the back smudges easily
slippery without case
long and wide phone
selfies could be better
details of the videos could also be better
4G not that fast
expensive modules
Motorola Moto Z is the most original phone of 2016 we tested and it's basically modularity well done. Even if the modules were not part of the equation, it would be an excellent smartphone, with a good battery, great camera and solid performance. The screen is bright, the software is clean and fast updated, so I'd choose the Moto Z over the LG G5 any day.
It's also a very solid HTC 10 and Galaxy S7 rival, plus even an iPhone 7 Plus alternative. Only Pixel XL can properly challenge it to a duel and win. Then there's the modularity that may draw some people to that niche… Moto Z is certainly a figure to remember over the years. You can get the handset here.