Verizon Wireless has just announced "fresh meat" including the like of HTC Imagio and now Motorola Barrage, Nokia Shade and Pantech Razzle, sold as Verizon Wireless Razzle. Moto Barrage is a push to talk device, meant to hit the market this year and meeting military specifications, for dust, humidity, rain, shock, vibration and whatnot.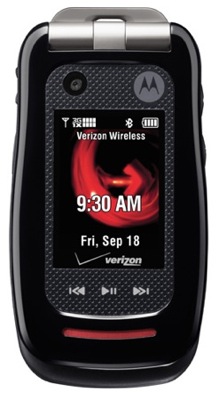 The rugged Moto phone can be submersed in one meter of water and "survive" up to 30 minutes. It features a 2 megapixel camera, a 1170 mAh battery, dual speakers and it supports Verizon's trademark services: V Cast and VZ Navigator. Expect it to be available starting today, at least online and in retail stores starting November 16th, with a price of $129.99 with a $50 mail in rebate and a 2 year contract.
Nokia Shade 2705 comes next, meant to be sold online only for a period of time and packing a 1.3MP camera, Bluetooth and VZ Navigator. Expect the handset to become available starting October 6th, for $29.99 and with a 2 year contract.
Last on the list is Verizon Wireless Razzle, with its unique rotating keypad design, music player shortcut keys and a full QWERTY keyboard. Its specs list also includes 1X connectivity, Bluetooth and VZ Navigator, plus a 2.2 inch display and a 1.3 megapixel camera.
[via phonedog]