Do you see the flyer below? It's everywhere on the web, in mailboxes (real ones) and basically spread throughout most means of communication. However, if you got one of those, you're not as special as you think you are, since it doesn't guarantee you'll get a BlackBerry Storm handset if you visit the Verizon Wireless store between November 17 and the 21st.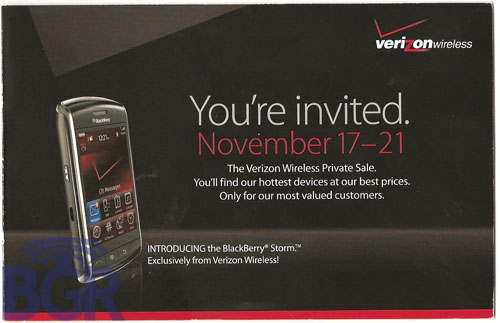 The "private sale" will have you showing up at the local Verizon Store only to find out that you'll be included on a list of customers who'll get a call on Friday in order to pre-order the BlackBerry Storm. If you call the number on the flyer there's some more waiting for the done, as you're put on hold and told to come back on Friday.
At least this is what a Boy Genius Report reader experienced, getting really angry at Verizon Wireless and their so-called invitation. Any similar experiences?
[via Boy Genius Report]