Since it's starting to snow in some parts of the globe, it's time to oblige the winter fantasies of people and release white case smartphones. This is what Motorola and Verizon will be doing to the Droid RAZR, that will get a white coating. The handset will arrive in time for the holidays with a $299 price tag on a 2 year contract.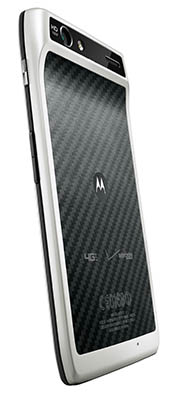 Keep in mind here that the case is "mostly white", so this Droid RAZR is not exactly the Snow White you had in mind… There's also another cool offer floating around, involving taking $100 off one of the Motorola Xyboard tablets if you buy a RAZR handset right now. We at GSMDome.com just finished reviewing the Motorola Droid RAZR and I have to say it's a fantastic piece of work.
The phone is fast, the camera is great, the design is slim and elegant and the grip is excellent. The flashy and colorful OS is not exactly my type of experience, but in lack of something better I'll take Android with a Moto twist. Also, as a bonus we're mere weeks away from getting Ice Cream Sandwich on this phone, if Moto keeps its promise.