We've had the chance of playing with the ASUS ROG Phone II for a few times already, during hands on sequences in both Taiwan and Berlin, but here we are with the finalized product. I was lucky enough to score one of those badass trolleys filled with goodies, in order to do a proper unboxing for you, shown below. We don't have a price for the whole thing, but the ROG Phone II is 899 euros in the Elite version I'm playing with. Let's check it out.
By the way there's also an Ultimate Edition with a Matte back and a price of 1189 euros. This isn't one of those specs articles, since I'm going to focus more on accessories and less on the phone. I'm ready to predict a price of around $1800 or so for the whole trolley. Said trolley comes with a gold/red finish, looks both elegant and aggressive, in a gaming way.
The wheels feels a bit more mobile and versatile than on the last year trolley. It's also very well secured, with two briefcase style metallic latches, a combination code and a key slot. All the boxes inside are tucked in a sort of foam/sponge cushion and safely secured with latches. So, this is what we get inside:
ASUS ROG Phone II
Aero Active Cooler II
Lighting Armour Case
ROG Kunai Gamepad
TwinView Dock II
Mobile Desktop Dock
ASUS ROG Phone swag bag
WiGig Display Dock Plus Combo
And now let's take them one by one:
ASUS ROG Phone II
ASUS ROG Phone II comes in a similar box as the predecessor, with a Parallelepipedic shape (unless my geometry is off). There's another box inside the box, which is pulled out to reveal both the handset and AeroActive Cooler 2, a new generation of cooler for the smartphone. This is basically a fan, which is now more silent and more powerful. It's got a special ROG lighting system and provides an extra USB-C port and audio jack.
While unpacking the ROG Phone II box we also found a sort of "bikini case", meaning it's more revealing than hiding. You can also use the Aero Active Cooler II with it mounted. ASUS promises a 5 degree Celsius drop once the fan is on. We also found some small rubber brackets, which you can prop up the Aero Cooler on in order to make it work like a kickstand and prop up the phone for video watching.
Also inside the ROG Phone II box we find an USB-C to USB-C cable (braided wire), a charger (may require an adapter) and the manual, plus the SIM key.
Lighting Armour Case
This is brand new accessory, which doesn't have a predecessor on the ROG Phone 1. It's basically a stylish case, that has a few specially designed channels, that lead the light of the LED flash into patterns on the back. From what I've seen they can change colors and even display images, using mirrors and light channels. The ROG logo lights up nicely.
Once you connect it to the device, it also self activates a theme/wallpaper that makes the front of the device fit the back.
ROG Kunai Gamepad
My personal favorite among the new accessories has got to be the ROG Kunai Gamepad. This is basically a joystick that can be considered a hybrid between the Nintendo Joy Cons and the NVIDIA Shield controller. On the one hand we have two side joysticks, which can be hooked to a central Kunai Holder. Together they really look like the Shield controller and provide no less than 6 shoulder buttons, two thumbsticks, a D Pad and 4 action buttons.
They can also be connected to the ROG Phone II, but only if it has a special case on, with side connectors and sliding tracks, like the Nintendo Switch. The resulting gizmo is very wide, but ergonomics are still great. Also I love the lighting on the left side of the machine. The thumbsticks are responsive enough for me. You can easily map all keys according to your needs.
Also, you can use the two small "Joy Cons" separately, in multiplayer games. From what I gather one could also connect the gamepad to the PC.
TwinView Dock II
This is actually a device built using the feedback from the ASUS fans. It's much slimmer, lighter and even lets you connect the ROG Phone with Kunai joystick on the sides. It has a latch at the back fixing it in place and also bring sa secondary 6.59 inch AMOLED 120 Hz screen, plus an extra 5000 mAh battery and a fan. Of course there's also ROG lighting.
It's all meant for multitasking, like watching a video walkthrough while playing a game, chatting with people or reading the email on one screen, while accelerating in Asphalt 9. Ergonomics are OK, grip is solid and we also get an audio jack and USB-C as extras. Too bad you can't show a virtual keyboard on one screen and the app you're using on the other…
Mobile Desktop Dock
This device is basically unchanged from the predecessor, basically a way to turn your ROG Phone into a gaming PC replacement. Or even a desktop work PC replacement. Using this dock, which is filled to the brim with ports you can hook up the phone to a monitor, mouse and keyboard. It has a HDMI 2.0 port, DisplayPort 1.3, 4 USB ports, one USB-C, one Ethernet and two 3.5 mm jacks for the mic and speakers or headphones.
And that's just the back! The side hosts an SD card slot, USB 3.0 port and DisplayPort 1.2. You can even output 4K 60 Hz video if you want to.
WiGig Display Dock Plus Combo
Another accessory that's very much unchanged from the previous gen unit is the WiGig Display Dock. It's basically a big dongle or wireless dock, that lets you bring your gaming session from the phone to the TV screen. It uses a special WiFi WiGig standard at 60 GHz, which reduces latency a ton from the usual WiFi Display or WiFi Direct solutions.
You can also hook it up to a projector or monitor and latency drops below 20 ms. Video output is now 2560 x 1080, compared to the 1920 x 1080 pixels of the original. There's also another small box with a dongle that provides an adapter from USB 3.0 to RJ45. The idea is to provide the ROG Phone II or any of the devices above with 1 Gbps fiber connection.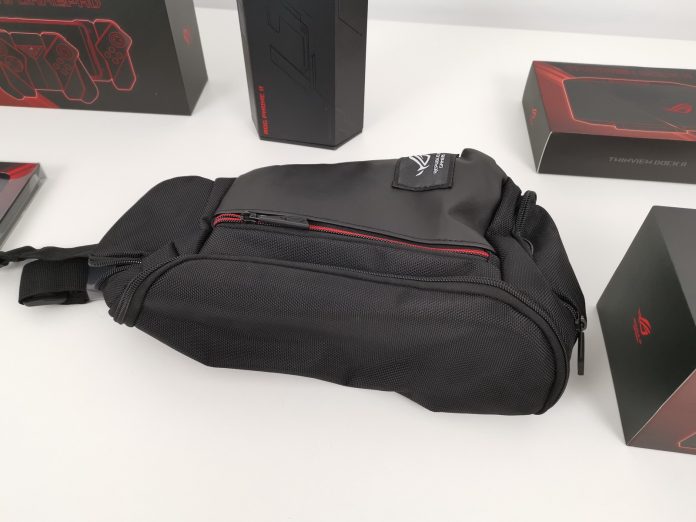 Brand new ASUS ROG Swag Bag
Instead of carrying the trolley around, you can use the new swag bag. A glorified man purse, gim bag or mega fanny pack, this is quite a compact little accessory, with many pockets for all the accessories. You can fit the phone inside, the Lighting case, the Kunai, TwinView Dock and that's about it. Once it's emptied you can make it into a ball and fit in a jacket pocket.
Now that everything's said and done we have some conclusions for you. I'm totally in love with the trolley and would wish to buy it separately for travels. Also, the Kunai would be a hit on its own, hooked up to many other phones, laptops, tablets, consoles and the PC. Sadly we don't have prices, which may be the deciding factor for the purchase, but hardcore gamers may just have found the best gaming phone accessories of 2019 with the ROG Phone II…
We'll be back with a full review soon!