The folks of the Ubuntu team have exposed the Meizu MX4 Pro handset, as one of their latest Ubuntu Touch-running handsets. Meizu and Ubuntu have been rumored to work together for a while now and it's happening at last.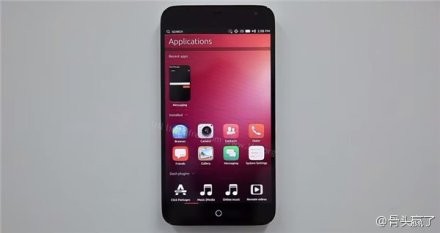 The images seem to fit what we already know about the device: big 5+ inch screen, sharp resolution, probably Quad HD and narrow bezels. The apps area looks a bit too simplistic in Ubuntu, while the Settings area is actually not that bad, seeing how other modern UIs evolve, such as the iOS 8 one. Meanwhile, the MX4 Pro leaked with full specs the other day and it comes with a powerful Exynos CPU, 2 or 3 GB of RAM and possibly a fingerprint scanner.
Aside from experimenting with Ubuntu Touch on Nexus devices, up until now developers and companies have stayed away from this platform. It's a pity, because it has great potential and Meizu may just revitalize it. However, I doubt that they'll launch it on the Meizu MX4 Pro, since they have their own Flyme OS thing going on.
via cnmo.com