Motorola Moto M is an odd duck: not quite the Moto Z, but also superior to the Moto G4 at first sight. It fits between them as a metal midranger and it was launched in November 2016. It bears a more visible Lenovo identity compared to other models and it's priced at $250.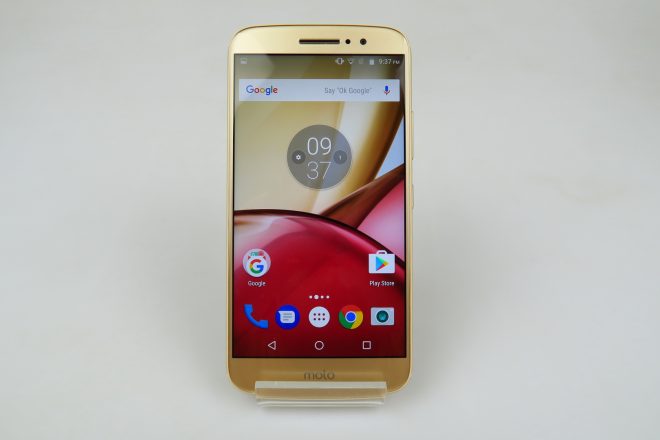 I feel we can easily call it a Huawei Nova and ZenFone 3 rival, but one that cuts corners in the CPU area, only offering a Helio P10. Design-wise, we get a metal unibody design, not very far from what the Huawei Nova Plus offered, as far as the format goes. The build is solid and the weight is rather OK for a metal machine. The general design feels a bit generic and basic.
One hand use doesn't pose any problems and we've got comfy buttons in the mix, with good feedback. Motorola Moto M measures 7.9 mm in thickness, which is the same as the Galaxy S7 and weighs 163 grams. Meanwhile the Huawei Nova Plus measures 7.3 mm and weighs 160 grams, while the 5.5 inch ZenFone 3 measures 7.7 mm and weighs 155 grams. Moto M is for sure a comfy phone, with a rounded back, but it's also rather robust and a bit wide.
Available in gray, gold or silver, the handset is splash and spill proof, courtesy of nano coating. It's not the prettiest phone, but it's perfectly produced. As far as the display is concerned, we get a 5.5 inch IPS LCD Full HD screen and since we don't have a preinstalled video player, we relied on Google Photos for video playback. The viewing experience brought us a crisp and bright image, wide view angles and nicely calibrated colors.
The contrast was OK, even in full sunlight and the pixels have an RGB Stripes setup. We used the luxmeter and got up to a value of 406 LUX, which is pretty good for a midrange phone. It surpasses the Sony Xperia Z3 and HTC One M9, but scores below the Xperia XA and iPhone SE, as well as the HTC One A9. Settings include brightness level, adaptive brightness, a Color Mode (Standard or Vibrant), plus font size. Overall an OK display, I could say.
On the CPU front there's a MediaTek Helio P10 octa core chipset, not the best in the world for the end of 2016, but enough for a midrange phone. Interestingly, the Indian market gets a Helio P15 version of this phone. It comes with 3 or 4 GB of RAM of the LPDDR3 kind and 32 or 64 GB of storage, as well as a microSD card slot. The device's performance is quite OK, since there's no lag and apps start up fast.Well for more reviews like this you can visit review websites in india were you will found many reviews on gadgets and  more products.
Riptide GP Renegade runs quite OK, without frame drops and with nice looking textures and lighting. We also did some benchmarks, of course. Thus we ran Quadrant and scored above the Samsung Galaxy A5 (2016) and the Allview P9 Energy, but also below the LG V10. In AnTuTu 6 we scored above the Xperia XA, which has the same CPU and also surpassed the Moto G4, but scored below the ZenFone 3 and Huawei Nova.
In 3DMark Ice Storm Unlimited we beat the Allview X4 Soul and HTC One A9, but also below the Huawei Honor 7, which is not exactly a young device. I would call these results OK for a midrange phone of late 2016 and at least the device stays true to the idea that it's better than the Moto G4 and Xperia XA. Temperature was OK, as we got to 34.8 degrees Celsius when running GFXBench and 38.3 degrees when running Riptide GP Renegade, so there's no overheating here.
As far as the battery is concerned, the Moto M has a 3050 mAh unit (Li-Po), supporting 5V/2A fast charging. In our HD video playback test we achieved 6 hours and 48 minutes, not exactly impressive, but surpassing the HTC One M9 and Xperia M5, while also getting beaten by the Honor 7 and Honor 8 models from Huawei. In PCMark we got up to 6 hours and 6 minutes, which is rather good, especially since it's better than the Xperia M5 and LG G5, which was a 2016 flagship after all.
There are other phones out there with more modest features, but better results, such as LG AKA or Huawei P9 Lite. I should also mention that the Huawei Nova and ZenFone 3 provide 3-4 hours of extra functioning of their own. Charging takes 1 hour and 51 minutes for a full charge, which is rather good and clearly better than the LG G3 but inferior to the HTC 10.
5 minutes of charging take the battery to 3%, 15 minutes to 14% and 30 minutes to 31%. Special battery settings include Battery Saver and Battery Optimization. Audio is another item we checked out. We get Dolby Atmos acoustics here, with 3D sound and 2 microphones in action. Google Play Music is the preinstalled player of choice and EQ section leads to a dedicated Dolby Atmos app, which we also saw on quite a few Lenovo phones.
The app's Modes are Movie, Music, Game, Voice and a Custom one with functions like volume Leveler, Dialog Enhancer, Surround Virtualizer and a Graphic EQ. The listening experience brought us very loud sound, that's also crisp and the bass is also good. Voice and keys are nicely heard in songs. As usual only the right side grille of the phone hides an actual speaker.
We did a decibelmeter test and achieved a result of 83.8 dBA with our typical audio sample and 99.2 dBA when playing Riptide GP Renegade. This has got to be the highest result I've achieved on all the phones we've tested over the past years, very close to 100 decibels, which is mighty impressive. The bundled headphones are too small and they tend to fall from your ear.
The clarity and volume are still OK and the bass is reasonable. FM radio is also here. Time to talk about the camera! Motorola Moto M opts for a 16 megapixel shooter with F/2.0 aperture and 1 micron pixels, as well as PDAF and dual LED flash. At the front we find an 8 MP camera with Beautification features and by the way this is no stock app, but rather a custom cam app also spotted on several Lenovo phones.
The camera app is fast to start up, but the focus was a bit on the slow side. Zoom is fluid and picture taking had a satisfying speed. Camera options are rather classic, ranging from HDR to flash, aspect to resolution, but the latter can't be set up normally with figures, but rather as Max or Normal. Then we have options like white balance, ISO, tri axial leveling and Snap Mode.
A Pro mode is also here, with options like exposure, ISO, shutter, focus, white balance. There's also Panorama, Art Nightscape, Effects and some Beauty filters. Moving on to the Gallery, we took our shots in early March, on a sunny day and achieved a pretty solid HDR and benefited from OK clarity. I actually found the selfies to be great, possibly the thing that I noticed first.
We did also take some out of focus shots with the main camera, but those pale in comparison with the great closeups. Colors felt a bit washed out and landscape shots provided reasonable details. The Panorama had a resolution of 8496 x 864 pixels and clarity was rather good. When zooming in we lost some details and I noticed that the focus was top notch at all time, especially when taking closeups of those toys in the park.
Colors need to be a bit more vivid, that's my opinion. Clarity and lighting were OK and the details were typical for a midranger. I would still place the Moto M below the ASUS ZenFone 3 and Huawei Nova and pretty much on par with the Huawei Honor 7, only with less burnt shots. I also took some indoor shots, which were poor and the only decent ones are those with a flash on.
Low light photo capture (gallery here) brought on OK sized halos, a good flash and zooming in resulted in some grain. I liked the texture of the buildings and monuments and I found some blur in the distance shots. Street light halos weren't overblown and there was no violet or blue hue to bother us. Colors were also good and realistic. It's all nice for a midrange phone, but still below the ASUS ZenFone 3 and Huawei Nova.
It's kind of the same as the Huawei P9 Lite. Video capture was taken in MP4 format, in Full HD resolution, at 30 FPS and 17 Mbps bitrate. Exposure change was rather good, but the details in the distance weren't the sharpest. Zooming in brought us detail loss and the colors were a bit washed out. Focus was good and clarity was reasonable. The microphone provided nice ambiance and we also felt that the dynamic range could have been better.
The first thing that comes to mind is that this Moto phone can fight Huawei midrangers, since they're the kind that take photos well, but don't film as sharp. It's superior to the Moto G4, but clearly below the Moto Z and also the ZenFone 3. Low light videos were shot in 24 FPS, at 17 Mbps and the microphone didn't seem to handle the wind well this time around
I would have to say that during the night time the phone performed surprisingly well. It got a clear recording, OK colors and lighting, even the street light halos had a decent size. There's some blue hues at the top of the image, but barely there, so nothing major. I'm thinking the Moto M could take on 85% of midrange phones when it comes to low light video capture.
It can take on the Huawei Nova and ZenFone 3 for sure. It's a bit of a mini surprise I'd say. As far the web browser goes, we've got Chrome working for us, with a pretty good speed and good results in Vellamo, but poor in Sunspider. We've got a stock keyboard here and Swype is also in the mix. Connectivity was also analyzed by us, so we are dealing with a dual nano SIM smartphone, that uses the second slot as a microSD holder.
USB Type-C is also available, with OTG support and the list includes Bluetooth 4.1, GPS, Glonass and LTE Category 6, with up to 300 Mbps download speeds. 2 microphones are included for calls, but somehow there's no NFC. WiFi a/b/g/n/ac makes the cut too. Calls were loud and clear, noise cancelling was efficient, since after all Motorola invented mobile phones, right?
We also did a SpeedTest, achieving 247 Mbps in download speed on WiFi and 25 Mbps in upload. When the 4G got tested we got to 62 Mbps in download and 45 Mbps in upload, both good results and well within averages, perhaps even a bit above. Now it's time to talk software! Motorola Moto M runs on Android 6.0 Marshmallow, with a clean and stock UI, reminding me a bit of the Moto Z and Moto G4.
It's got a carousel multitasking, stock wallpapers and widgets, settings and a dropdown section that includes the typical notification and quick settings. There's a Google Now homescreen on the leftmost side of the UI and Settings include the usual stock options, plus Motorola Privacy. The fingerprint scanner has a 12 step setup and it's rather fast and accurate, when it comes to unlocking the device.
There are 25 preinstalled apps here, all of them stock, so there's no bloatware. There is basically zero difference between this phone and a Nexus, if Google had made one with a more dated UI late last year. Luckily the UI is very fluid and update should come fast. Now since everything is done, it's time for the verdict.
Here are the Pros:
solid build
very, very loud
good closeups
nice selfies
good screen and lighting
not bad filming
no lag
clear UI and OS
And the Cons:
battery could be 3-4 hours better
camera UI rather limited
some out of focus and washed out shots
poor indoor capture
no Android Nougat
unimpressive benchmarks
Motorola Moto M is a solid rival for the Galaxy A5 (2016) and ASUS ZenFone 3, as well as the Huawei Nova Plus, even though it comes up short in some aspects, like the camera. Still, it takes great selfies, has a clean UI and is able to deliver perfect closeups plus stellar acoustics. It's on par with the Huawei P9 Lite if you ask me and its biggest drawback has got to be battery, something to improve for the Moto M2.
You can get the phone here.